Months ago, I was invited to intern under celebrity stylist, Djuna Bel, for an Elle mag shoot of Gina Carano (promoting her new movie Haywire) in Hollywood. It was a very educational experience. The biggest lesson I got from it was the realization that I never, ever, ever want to be a part of the LA fashion industry.
But something a little cooler was learned only after the image ran.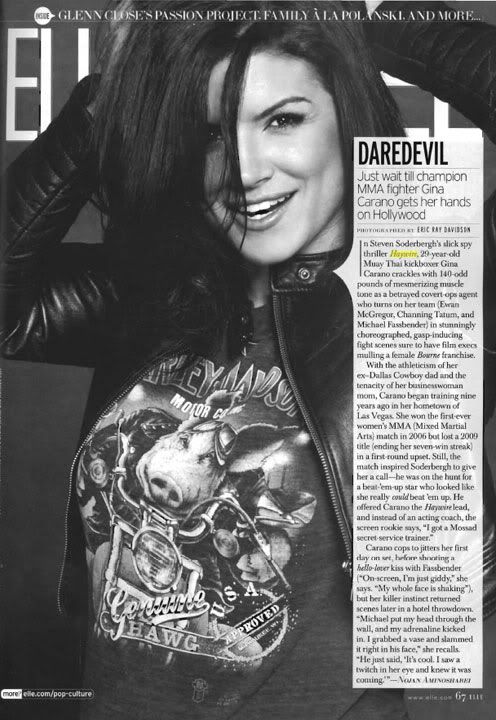 US Elle January
All morning long, we prepared a wardrobe room full of fantastic clothes. We did a 10K pull at Barneys and added it to the dozens of beautiful garments already pulled-- knit high-waisted knickers, chunky cable sweaters, leather jackets and dainty diamond necklaces. All of it seemed to make Gina kind of uncomfortable. She's an athlete, afterall, an MMA fighter. We shoot all day long, probably did 7-8 wardrobe changes. At the end, Gina spotted an old tee shirt, a Harley shirt, that was draped over a rack-- it had been left behind by someone and had been in the room when we got there to set up our million-dollar, label-heavy, big-house-designers, "credit"-targeted warbrobe selection.
Everyone waffled and no one told her no.
So she put on the Harley shirt and look at how natural the image turned out.
Sometimes you gotta just let things happen, folks. Just let people creatively collaborate, let the vibes flow and loosen up. Serendipity made this image as beautiful as it is. It was an old, worn-in shirt forgotten in a corner and I bet the owner sorely misses it. It was a good shirt.